ET HospitalityWorld Restaurant and Nightlife Awards Announces Winners, Hospitality News, ET HospitalityWorld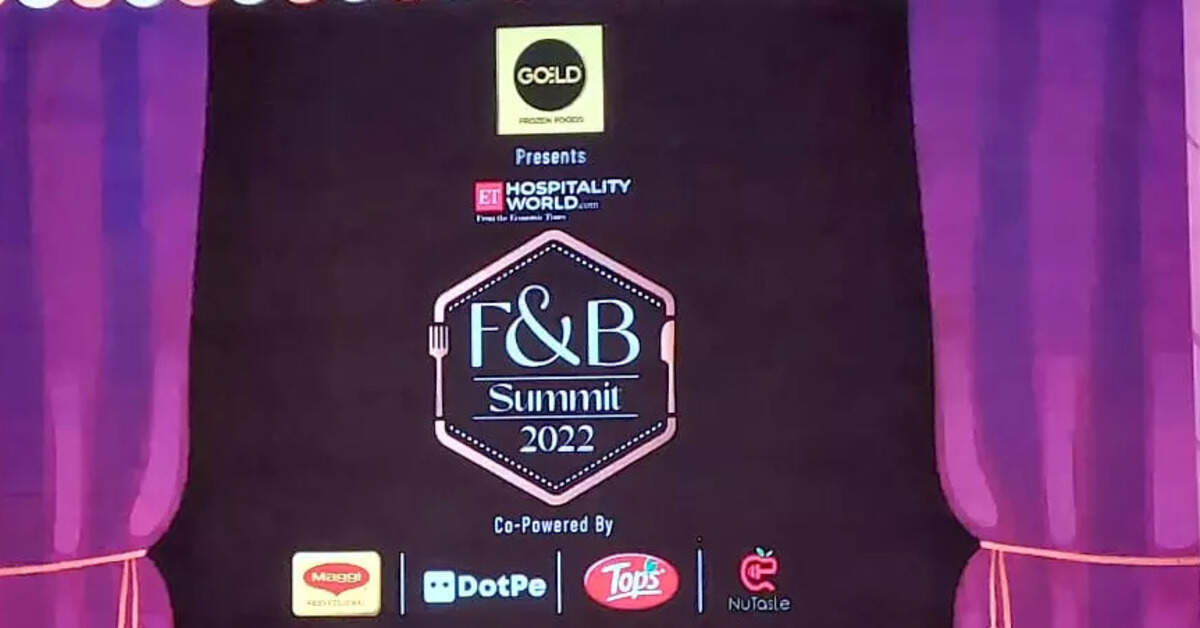 The inaugural ET HospitalityWorld Restaurant and Nightlife Awards held in a glittering ceremony on September 20, 2022 at the Leela Ambience Gurugram saw more than 100 awards presented to restaurant professionals from across the country.
The awards were chosen from nominations and recommendations, after first undergoing rigorous vetting by Earnst & Young and a national jury that sat remotely and was made up of 30 people from across the country.
They were then reviewed by the Grand Jury which was headed by Jury Chairman, Chief Ranveer Brar and included Aditya Ghosh, Founder, Homage Advisers; chef Ajay Chopra, chefpreneur, restaurateur and consultant; Anoothi ​​Vishal, columnist, journalist, chef and food critic; Chef Davinder Kumar, Vice President (F&B Production) and Executive Chef, Hotel Le Méridien and President, Indian Culinary Forum; Dilip Puri, Founder and CEO, Indian School of Hospitality; Chief Kunal Kapur, celebrity chef; Kunal Vijayakar, television personality and foodie; Mansi Khattar, Category Marketing Manager – Food, Nestlé Professional; Rachel Goenka, Author and Chef, Founder, CEO The Chocolate Spoon Company; Chef Rakesh Sethi, Corporate Executive Chef, Radisson Hotel Group; Rocky Mohan, Owner, Old Monk; Rukshana Kapadia, columnist, writer and influencer; and chef Saby Gorai, chef and entrepreneur.
The prizes were awarded to:
Winners AND chosen by the Grand Jury:

Best Microbrewery – South: Byg Brewski Brewing Company
Best In Microbrewery – North: Ministry of Sound
Restaurateur of the Year – North: Priyank Sukhija, CEO and Managing Director, First Fiddle Restaurants
Young Restaurateur of the Year – North: Sahil Sambhi, Owner and CEO, House of Yuvi
Best in Cafe – North: Petite Pie Shop
Best in Cafe – East: Roastery Coffee House
Best Bakery – North: L'Opera – French Bakery Private Limited
Best Fine/Luxury Restaurant – South: Sky Grill Lounge Bar & Restaurant – Crowne Plaza Kochi
Best Fine/Luxury Restaurant – North: Adrift Kaya at JW Marriott, Aerocity
Best Creative Concept of the Year Award: "OMO Soul Food Community"
Chef for Regional Cuisine – North: Chef Harangad Singh, Founder, Parat Foods & Catering Pvt. ltd.
Best Cloud Kitchen – North: Call Chotu
Best bar/pub with outdoor space – East: LMNOQ Skybar
Best bar/pub with live music – West: Some Place Else
Best bar/pub with live music – North: HOME
The most Instagrammable restaurant: Plum by Bent Chair
Restro Bar Best in Ambience & Design – South: Gatsby Cocktails and Cuisine
Restro Bar Best in Ambience & Design – North: Ophelia Delhi
Best atmospheric and design restaurant – West: AlDiLa – Conrad Pune
Night Club Best in Ambience & Design – North: Khubani Delhi
Biryani Brand of the Year – South: Thalapakatti Hotels Pvt. ltd.
Beginner in Industry – North: MisoSexy
New to the Industry – East: Veneto Bar and Kitchen
Best North Indian Regional Food – North: Daryaganj Restaurants
Best Regional Caribbean Cuisine – West: O Pedro
Best Pure Vegetarian Restaurant – West: Kailash Parbat Restaurants (Uptown Restaurants)
Best Indian Food Chain Restaurant – East: Kareem's Kolkata
Best In Restro Bar – East: Canteen Pub & Grub
Best International Cuisine – Middle East: Rue Du Liban
Best Regional Standalone Restaurant – North: Gulati Restaurant
The best of multi-cuisine: JW Cafe, JW Marriott Mumbai Sahar
Best In Night Club/Pub – North: Toyroom Delhi
Best In Night Club/Pub – East: M Bar Kitchen & Cocktails
Microbrewery Best in Ambience & Design – South: Ironhill India
The best of international cuisine – Oriental: China House Restaurant
The best of international – European cuisine: Celini
Best bar/pub with outdoor space – West: Foo Asian Tapas, Andheri
Best In Restro Bar – North: Romeo Lane, Defense Colony
The best of the barbecue: the GT Road barbecue | Sideboard | Bar
Restro Bar with the best atmosphere and design – East: Traffic Gastropub
Young Restaurateur – West: Pawan Shahri, CEO. Chrome Hospitality
Best Indian Food Chain Restaurant – North: Dhaba Estd 1986 Delhi
Fastest growing brand: Travel Food Services Pvt Ltd.
Best Regional Cuisine of North East India: Sanjha Chulha
Best bar/pub with outdoor space – North: Cozy Box Delhi
Best In Restro Bar – West: Asilo
Best Cloud Kitchen – South: GRT Cloud Kitchens
Best Casual Restaurant – South: Wharf 2.0
Best Family Restaurant – East: Cravings
Recommendations of the national jury with the highest score among all the applications received:
Best Autonomous Region – East: Piazza
Best Family Restaurant – North: Daryaganj Restaurants
Best Regional South Indian Food – South: La Uppu – Grand Mercure Mysore
Best bar pub with outdoor space – South: Tiamo – Conrad Bengaluru
Restro Bar with the best atmosphere and the best design – West: Silly!
Best microbrewery in atmosphere and design – East: Refinery 091, Kolkata
Cafe with the best design – West: Loci & Toot
Kitchen Equipment Supplier Awards: Janshakti Industries
Young restaurateur – East: Swastik Nag, Founder and Director, Interactive Canteen Clubs & Hospitality Pvt Ltd
Young restaurateur – South: Likhith Reddy, Founder and CEO, Gatsby Cocktails and Cuisines
Best Newcomer Cloud Kitchen – North: Pop Thai
Best Restaurant – West: Koko, Asian Gastro Pub
Best Regional Cuisine – North India: Spice Terrace – JW Marriott Bengaluru
Nightclub with the best atmosphere and design – East: Canteen Pub & Grub
Best bar-pub with live music – East: Refinery 091, Kolkata
Best Family Restaurant – West: Kala Ghoda
Best Family Restaurant – South: Food Exchange at Novotel Hyderabad Convention Center
Grand Jury recommendations awarded:
The best of international – European cuisine: Olive Bar and Kitchen – Mumbai
Best Pure Vegetarian Restaurant – East: Piccadilly Square
Best Pure Vegetarian Restaurant – West: Swati Snacks
Best Pure Vegetarian Restaurant – North: Burma Burma
Best Pure Vegetarian Restaurant – South: Annalakshmi Restaurant
Best QSR Channel: Wow Momo Foods Private Limited
Best North East Indian Regional Cuisine: Kwality Restaurant
Best North-South Indian Regional Cuisine: Copper Chimney
Best North Indian Regional Food – North: Punjab Grill
Best restaurant – West: Bombay Canteen
Best restaurant – North: Comorin
Best restaurant – South: Farmlore
Beginner in Industry – South: Red Rhino – Craft Brewery and Inspired Cuisine
Best in Ambience & Design Restaurant – North: Sheesh Mahal – The Leela, Udaipur
Best in Ambience & Design Restaurant – South: Kaze Bar & Kitchen, Bangalore
Best bar/pub with live music – South: Windmills CraftWorks
Best bar/pub with outdoor space – West: For The Record – Vinyl Bar
Best Casual Restaurant – North: Mains restaurant
Best Casual Restaurant – South: Sarposh – Discover Kashmir
Best Cloud Kitchen – North: Henry Havaldar
Best Fine/Luxury Restaurant – West: OPA Kipos
Best Fine Dining / Luxury Restaurant – North: Indian Accent
Best Fine Dining / Luxury Restaurant – South: Karavalli Fine Dine, Bangalore
Best of Baking – West: Larder & Folk
Best in Bakery – North: Paris My Love
Best Coffee – West: Padaria Prazeres
Best coffee – South: Café Araku
Best In Restro Bar – West: Slink & Bardot
Restaurateur of the Year – East: Anjan Chatterjee, Founder and MD, Specialty Group of Restaurants
Restaurateur of the Year – West: Rakshay Dhariwal, MD, Pass Code Hospitality Pvt Ltd
Restaurateur of the Year – North: Kabir Suri, Co-Founder and Director, Azure Hospitality Pvt. ltd.
Best in Microbrewery – East: The Grid
Best Regional Standalone – West: Cavatina by Avinash Martins; Goan cuisine reinvented
Best Regional Standalone – North: Dzukou Tribal Kitchen
Best Regional Standalone Restaurant – South: Simply South Restaurant
Best of Healthy Food: AnnaMaya FoodHall, Andaz Delhi
Best in Ambience & Design Restaurant – East: Shamiana, Taj City Center New Town
Restaurateur of the Year – South: Ajay Gowda, Manager, Byg Brewski Brewing Company
Best In Microbrewery-West: Drifters Brewery
Best restaurant chain: Impresario Entertainment & Hospitality Pvt. ltd.
Best In Resto-Bar – South: Rooftop Brewpub
Best in Baking – South: Smoor
Chef of the Year: Chef Avinash Martins; Chef and owner Cavatina
Chef for European cuisine: Chef Priyam Chatterjee; Corporate Chef Bougie, Noche, First Fiddle Restaurants
Oriental Chef: Chef Shubham Thakur, Head Chef, The Leela Palace New Delhi
Best Cloud Kitchen – West: Talk About Burgers
Best Casual Restaurant – West: Sublime
Biryani Brand of the Year – East: Arsalan Restaurant And Caterer
Biryani Brand of the Year – West: Jaffer Bhai's Delhi Darbar Restaurants
Biryani Brand of the Year – North: Idrees Biryani
Best Regional Cuisine – North India: Bombay Brasserie
Best restaurant – East: BarBQ
Best Restaurant Consultant Award: Chef Raminderr Bakshi, Chefpreneur, Hospitality Consultant & Startup Specialist, The Art Culinaire & The Baking Lab
Beginner in Industry – West: Neuma
Best In Night Club/Pub – West: Rockpool – W Goa
The best of international – Oriental cuisine: Bastian – Mumbai
Editor's Choice Award:
Culinary Vlogger/Youtuber of the Year: Thomas Zacharias – Chef & Founder – Le Locavore
Best Food Service Community Champion: National Restaurant Association of India
Outstanding Hospitality Contribution/Service: Anjan Chatterjee, Founder and Managing Director, Specialty Group of Restaurants
Restaurant that makes the difference: Ishaara, Mumbai
Best Restaurant App – Restaurant Owners Choice: Ditch the Q
Best POS System: DotPe