The Brooklyn Crush Wine & Artisanal Food Festival returns to Industry City for a springtime celebration of wine and food, Saturday, May 7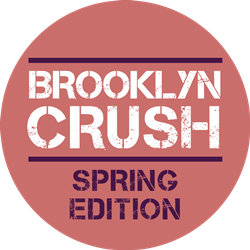 The Industry City courtyard provides an industrial-chic backdrop to Brooklyn Crush's selection of world wines, spirits from American makers and delicious artisanal dishes…creating an atmosphere where guests will enjoy tasting, discovering and experience all the offers.

NEW YORK (WEB PR)
April 26, 2022
Crush Wine Experiences (formerly New York Wine Events) is pleased to mark its return to live events since the pandemic with its long Brooklyn Crush Wine & Artisanal Food Festival: Spring edition. The event returns to Industry City in Sunset Park, Brooklyn on Saturday, May 7, with an outdoor twist; outside in the 1/2 courtyard, under a spacious tent, sheltered from bad weather. The Sixth Annual Spring Tasting offers a choice of two sessions: Afternoon: 2-5pm or Evening: 7-10pm, as well as a special Premium Early Access ticket allowing guests to enter one hour before the start of the general sessions . A VIP ticket includes early access as well as admission to an exclusive VIP lounge located in the expansive Factory Floor space, featuring 12 premium wines and a special selection of pairing appetizers.
Brooklyn Crush will feature a sumptuous seasonal selection of wines, spirits, artisan foods, and select lifestyle product and service sponsors. Artisan food businesses in New York and beyond will sample a range of baked goods, salsas and sauces, non-alcoholic drinks and juices, and other specialty items. In addition to sipping and snacking, customers can keep their personalized Crush WineXP tasting glass as a souvenir.
The tasting tables offer a variety of wines, including dry and crisp white wines, fruity, elegant and complex reds; as well as selections of rosé, sweet and sparkling. Old, new and emerging wine regions will be featured including France, Italy, Spain, South Africa, South America, Greece, Slovenia, California and New York. A range of spirits from American distilleries will be on display, including several located in Brooklyn and upstate New York.
"We are thrilled to be back with our first in-person event since the pandemic. Returning to Industry City with Brooklyn's first outdoor tasting event adds the perfect spring vibe," notes Sam Kimball, Founder of New York Wine Events. "The Industry City courtyard provides an industrial-chic backdrop for Brooklyn Crush's selection of wines from around the world, spirits from American makers, and delicious artisanal dishes. Crush Wine Experiences looks forward to creating an atmosphere where customers will enjoy tasting, discovering and experiencing all of the offerings.
Participating sponsors include: BMW, 90+ Cellars, 1857 Spirits, Albert Bichot USA, Althea's Tropical Delights, Balls Vodka, Ballsy, Barrow's Intense, Bevo's Kitchen, Brotherhood – America's Oldest Winery, Cantina Valtidone, Coney Island Saucery, Cooper's Daughter Spirits, D'AG Wine, LLC, Don Tony Perez Wines, Drunken Fruit, Europvin USA, Ferreira Carpenter Winery, Fort Hamilton Distillery, Four Fights Distillery, Frankly Organic Vodka, Green Mountain Energy, LangeTwins Winery, Laureate Imports, The Long Drink, Mengler Family Wines , Molly & Mags, North Fork Crush Wines & Spirits, Papi Wines, Peconic Bay Vineyards, Perfect Blends, Pierre's Spicy, Pindar Vineyards, Provence Rosé Group, River Horse Wine Imports, Salsa di Parma, Springbrook Hollow Farm Distillery, Sunset Botanica, Tropical Harvest Slushies & Juices, Two Robbers, Upstate Vodka from Sauvage Distillery and WA Meadwerks.
Industry City restaurants sampling their specialties include Kotti Berliner Döner Kabob and Table 87, and patrons can sample freshly baked half-baguettes from Colson Patisserie to cleanse their palates between sips. More restaurants, wineries and artisan food vendors will be added in the coming weeks; see website for details. As with all Crush Wine Experiences events, craft food businesses and New York State wineries and distilleries will have full-size items and bottles available for guests to purchase and enjoy at home.
Tickets for the Brooklyn Crush Wine & Artisanal Food Festival are on sale now ranging from $55 to $105, depending on ticket level and time of purchase. Check the website for current ticket information and availability. Guests must be 21 years or older to attend all Crush Wine Experience festivals. Advance purchase is highly recommended as the popular tastings have enjoyed sold-out crowds for over a decade, and the 2022 launch event in Brooklyn is expected to do the same.
For more details or to purchase tickets for Brooklyn Crush on May 7, visit CrushWineXP.com.
About Crush Wine Experiences

Since 2010, Crush Wine Experiences (formerly New York Wine Events) has built a reputation for delivering memorable food and wine experiences that attendees won't find anywhere else. We share the excitement of wine discovery and education through in-person events, virtual tastings, private and corporate wine tours, educational articles and a video archive at request. Our live wine and food festival experiences and weekly virtual tastings attract thousands of wine and food-loving consumers to discover and experience artisan beverages and artisan foods. With over a decade of experience, Crush WineXP is a name trusted by guests, winemakers, distillers, brewmasters and food artisans. Learn more about CrushWineXP.com.